Resultados
1-15
de
73
da solicitação
Furniture
---
DEMISCH DANANT PAYS TRIBUTE TO LEGENDARY FRENCH TASTEMAKER HENRI SAMUEL WITH AN EXHIBITION OF FURNITURE AND OBJECTS HE COMMISSIONED FROM CONTEMPORARY ARTISTS.
...
The Safiture security furniture line by Döttling: safety at second glance.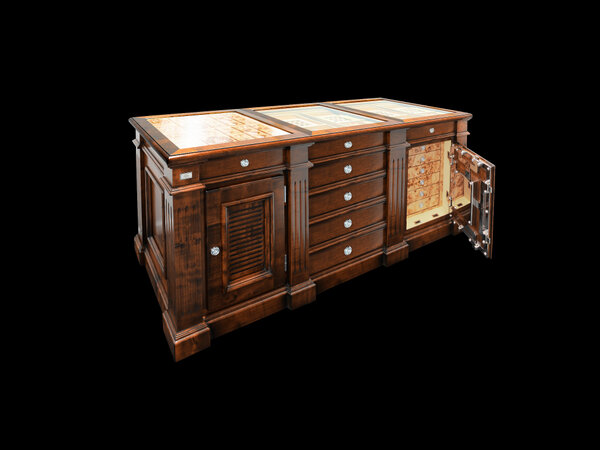 ...and only line of security furniture by the Maichingen safe manufactory Döttling. It is a series of high quality furniture that does not reveal the fact ...
B entley Motors introduces its complete Home Collection for the first time at Salon del Mobile 2014, designed and manufactured in collaboration with Luxury Living Group, one of Europe's leading furniture makers. The collection is inspired by the renowned craftsmanship and exquisite materials that characterise the interiors of all Bentley models....production and distribution of luxury furniture – combining the highest quality craftsmanship with a rigorous aesthetic sensibility whic...
T he International Contemporary Furniture Fair (ICFF), North America's premier platform for global design, takes a special edition of the show on the road ...
Elegant furniture of the Victorian age, 18th century secretaires, Napoleon III style cabinets and jewellery with timeless charm such as Cartier, Audermars ...through time: strolling through design, furniture and daily life" is a fascinating journey organized by Berni Studio Interior Design of Parma that, in four different living ...
...lofts ), offer a selection of furniture, lighting and decorative materials operated by originality and ' inventiveness in any respect . Indoor & Outdoor Furniture Indoor & Outdoor Lighting Decorative Materials ...
...metal, wood, textiles, stoneware and furniture. COLLLECT is pleased to announce significant and new additions to this year's Fair; the first live presentation by the ...
...before moving on to domestic furniture such as playpens, beds, and doors. In the 1990s, his practice evolved from single works to theatrical room sized environments.
Italian Futurist Design: From Furniture to Ceramics Tuesday, June 24, 6:30 pm The program of creative intervention proclaimed by Futurist artists Giacomo Balla and ...
FURNITURE 03AM A poetic front tops geometrically, as a stand proofer store and a bakery, origin of 03AM® brand, a brand ...Ross Gardam is an Australian furniture and lighting company established in 2007. Each product is hand crafted in Melbourne, Australia, by local artisans and makers.
...new showroom partnership with Italian furniture company Living Divani. Boffi Chelsea's new look showroom complete with new Xila kitchen with iconic Extrasoft modular sofa by ...presenting a range of new furniture on the second floor of designjunction at the Old Sorting Office during the London Design Festival.
W ith 629 exhibitors (an 18% year on year uptick) and 31,421 attendees, the 26th annual International Contemporary Furniture Fair (ICFF), May 17 20 at New York City's Jacob K. Javits Convention Center, delivered full throttle on all ...Austrian Federal Economic Chamber, Brazilian Furniture, Ceramics of Italy, Furniture New York, The Furniture Society (U.S.), Inside Norway, Interiors from Spain, Portugal Brands.
D erek Chen launched Council, his San Francisco based contemporary furniture company, at the ICFF in 2007. He has returned to the ICFF every year since then to present new designs – ... He thinks people respond to furniture more emotionally in a residential setting: "Not one of us is passionate about our cubicle, but each of us has ...
Demisch Danant will present Paris Match: Henri Samuel and the Artists He Commissioned, 1968 1977 , an exhibition exploring the legendary decorator and international tastemaker's unique engagement with French fine artists through the furniture and functional objects he commissioned in the 1970s from such figures as César, Francois Arnal Guy de Rougemont , and Philippe ...of a group of metal furniture pieces Henri Samuel used in his clients' interiors and his own home. Also on vi...
Sight Unseen, the influential online magazine, is returning to New York Design Week with the second annual Sight Unseen OFFSITE fair, presented in partnership with Ford and running from May 15 18, to coincide with the International Contemporary Furniture Fair (ICFF) and the citywide festival NYCxDESIGN. The 2015 show will be held over two floors at Hudson Mercantile, a ...showcasing a curated selection of furniture and product launches by independent design studios and forward ...
...Japan Creative, launched at Stockholm Furniture Fair. CLARKS Clarks: Rebooted debuts its exhibition at Design Shanghai in March with Desert Boot designs and unique art work ...hand blown glass lighting and furniture. HOUSE OF TAI PING Now available in the US, La Manufacture Cogolin produces handwoven rugs on 19th century jacquard looms.