Resultados
1-15
de
136
da solicitação
Bags
---
Arnoldo][Battois F/W collectionarises from the Venice of '500, painted by Tiziano and Lorenzo
Lotto.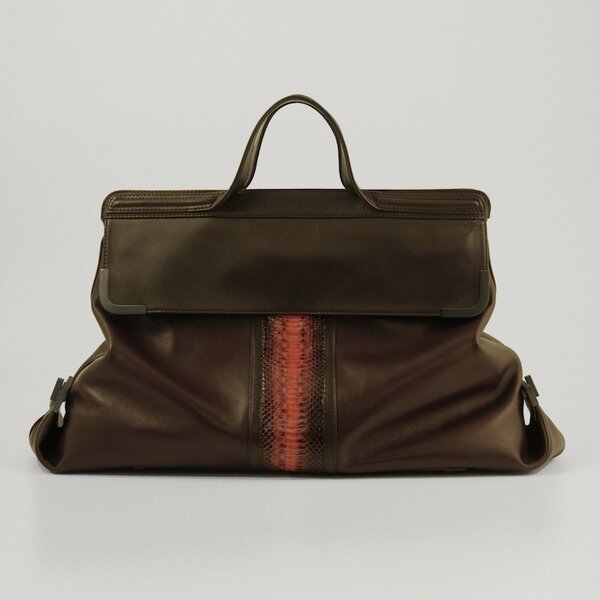 This selection combines clean lines and noble leather for a father's day under the sign of masculine elegance. Discover in preview the Honoré collection. As a tribute to the famous rue Saint-Honoré, the collection is introduced here in a shining prussian blue.
Arnoldo][Battois brand is one of 100 international designers who will participate in ORIGIN PASSION AND BELIEFS, a project by Fiera di Vicenza with the support of Not Just A Label, which will be held from 8 to 11 May in Vicenza.
Cork is a top trend for Spring 2013, and no one does it better than Pelcor, the Portuguese brand renowned for its luxurious accessories crafted with sustainable cork skin. Fashioned of a special premium cork textile (as opposed to the granulated scrap cork commonly used), Pelcor's designs are eye-catching, functional, and designed to endure.
Pelcor accessories are available online at www.PelcorUSA.com.
How We Wear It ! Hamptons season is here and we've pulled together our favorite east end essentials to help ...
...19 Andrea's 47 • 22 Bags • 3 Floor • 360 Sweater • 5Preview • ADD • Addmyberry • Alex Monroe • All for Terry • Almost Famous • Ambrym • Ampersand as Apostrophe • Angelina Folies • ... Jewelry, bags, gadgets, sunglasses and scarves – all the things you can never have enough of. 2ME • a cuckoo moment… • A Piece of ...
...Deer Dana t shirts and bags lighters postcards and colette candles ... While "love padlocks" are multiplying on bridges around the world, for Valentine's Day, À ...Tower heels, heart ballerinas poodle bags and even croissant clutches ! The designer puts a twist on the codes of the city of light with elegance and ...
...of the production of shoes, bags, accessories and leather garments , able to translate Brands and Designers' models in highly refined leather objects.
...a complete line of accessories: bags, belts, sunglasses and bracelets. Innovation, accessibility and creativity have attracted around the world. Pop Up Store Exclusive Charles & Keith From ...
Meet Anton Edelshtein of OMTURA whose industrial textured bags fuse underrated artistry with innovative, geometric shapes. The Tel Aviv based label crafts leather accessories defined by industrialist minimalism....and sculptural in shape, these bags are handmade using a tough leather usually reserved for belts, and here the young designer irons out the details of ...
Evening bags were in the shape of shiny golden custard creams, and rolls of ginger nuts made in leather dangled from wrists. Hindmarch's usually classic bags were embossed with excerpts from ...
...para incluir novas viagens e bags dia, bem como acessórios de negócios e tecnologia. Gresham Coleções, os homens Smythson são adaptados às tradicionais e contemporâneos estilos....o acervo é composto por bags, carteiras e detalhe tarja tecnologia. acessórios. Como sempre acontece com PRODUTOS Smythson, todas as coleções são feitas com atenção meticulosa ...
...fight over Lanvin's wanted bags. ( My Many Bags Fonte e foto Gone
...swim ranges the collection includes bags, clutches, travel wallets and bracelets all featuring heidi klein's signature style. Chic over sized bags in canvas feature leather trim ...
Designer Studio, Primeiro Andar T bags para um novo W / 2012 Chegando à loja para o outono / inverno 2012, T Bags sintetiza o estilo sexy, sofisticado ...
Shoes, bags and seasonal accessories will be displayed among the brand's classics, such as the Pigalle and Décolleté models....cashmere travel kits, Printemps storage bags and cases, and Maptote canvas bags. The business travel assortment is slightly more masculine, including Travel Notebook blank books and ...