Resultados
31-45
de
201
da solicitação
Magazine
---
THV Public Relations has launched its digital magazine entitled FIVE.
What´s news Pussycats
Mario Testino edição especial.


Um banquete de rara beleza e intrigante é concedido
para as páginas da edição 15ª de Schön! Magazine.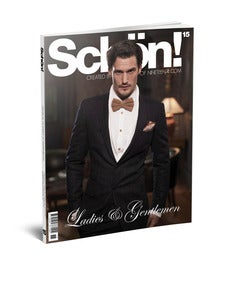 CAPA: 
 Supremo Foguete Productions Presents
Isabeli Fontana por Gustavo Zylbersztajn
Schön 19 -! # EPIC
Schön! Studios tem orgulho de apresentar ...
Bem-vindo ao Schön! que celebra a magia do cinema em todas as suas formas diversas. Arde Isabeli Fontana como uma femme fatale em nossa reportagem de capa, enquanto os modelos top Ashley Smith, Codie Young, Eugen Bauder e River Viiperi todos têm papéis principais. Mischa Barton diz-nos porque ela adora ...
Busque sua magia, seja eternamente jovem ,detenha o seu poder de escolha. A base da nova coleção masculina da Macy´s cria a oportunidade de ter qualidade associada a cortes impecáveis, com estamparia bem definida e padronagem máscula em sex up. Entre o dandes, executivos e o jovem das ruas a Macy´s faz um coletivo luxuoso, em pensamentos e oportunidades de peças para o novo guarda roupa masculino. Encontre sua forma, sua juventude e seu luxo na Macy´s.
Tomando o ano do Dragão pela tempestade com a nossa Pré-Primavera. Seja qual for como problema do tempo!
As topas do Poder Asiático:
Zhang Li Na, Wan Bao Bao, Renqingcuomu, Yangci, Chen Hong Jin, Xin Yuan, Liu Dan and Langsuowangmu
Its title is Lapo. Le regole del mio stile and it's the new book by Lapo Elkann, the heir of the dynasty that owns the Fiat, and that founded the Italia Independent brand.

At the headquarters of the brand, in Milan - same headquarter of the creative agency Independent Ideas – it will be possible to live the Vogue Exp...
...Interviews), Los Angeles Times , Destiny Magazine (South Africa), Elle (Bulgaria), Black Enterprise, Washington Post, and Huffington Post thereby exposing emerging luxury brands from Africa....publications such as Marie Claire Magazine (Netherlands) Elle Magazine (Bulgaria), Bullet Magazine, Huffington Post, Black Enterprise, Magazine, and the Washington Post, to cite a few.
com/digital edition/magazine/40/ Destaques da nova edição incluem: Estrela do show: no recente Salão do Automóvel de Genebra de toda a conversa ...
KINK 18 a magazine by Paco y Manolo (with Tony Coc) Kink comes out every six months and in each issue, apart from our ...
...only the most special of magazine consumers. JON is a mens fashion magazine featuring beautiful guys and amazing fashion, but without the pretentiousness that fashion magazines ...
Bespoken magazine had the chance to meet actor Pierce Brosnan at the most recent edition of the Mostra di Venezia film festival .
...sua décima edição, a "Restaurant Magazine" elege mais uma vez os 50 melhores restaurantes do mundo e, pelo sexto ano consecutivo, o D.O.M....its tenth edition, the Restaurant Magazine once again chooses the 50 best restaurants in the world and the sixth consecutive year , the DOM Restaurant chef Alex ...
A revista Cool Magazine, que acompanha as principais tendências dos segmentos de moda e noite, levará o DJ vencedor do prêmio de melhor DJ ...evento promovido pela revista Cool Magazine , que será anunciado apenas quatro dias antes da 3ª edição do Circuito Velvet Club, apresentando sets com o que há ...
...asked to re launch the magazine L'Officiel Hommes Paris, where he took on the role of Editor in Chief and Creative Director. After seven years, the magazine developed substantially, counting more than ...
...regulares para Vogue Paris, Purple Magazine , W Magazine e V Magazine , entre muitos outras e criaram campanhas publicitárias icônicas para líderes de moda e fragrância marcas ...
...fashion, including online publications Raine Magazine, print publications Black Enterprise , ELLE magazine the world's largest selling magazine publication, which has ultimately contributed to the growth ...
...also artistic director of the magazine Elle , the magazine created and edited by Hélène Lazareff. Chevalier introduced the two women and their meeting resulted in Bettina'...
The Royal Obsession Magazine is a contemporary visual fashion and art platform for emerging talent and trendsetters. We are driven to change your lifestyle ... To view the full magazine, go to http://theroyalobsession.com for more. by #The Royal Obsession