#relacoespublicas #rp #rpmoda #pr #publicrelations
»
2013
»
Abril
»
2
» Group and The Trump Brand present Trump Tower Punta del Este in South America's
---
00:54
Group and The Trump Brand present Trump Tower Punta del Este in South America's
The
Sales for
Trump Tower Punta del Este
, the
new million luxury oceanfront tower and the first Trump branded
residential development in South America, have officially launched. YY
Development Group, the developers of Trump Tower Punta del Este, along with
Eric Trump and Ivanka Trump, announced the launch during a recent
ribbon-cutting ceremony at the primary sales gallery, located on the property
site in Punta del Este, Uruguay.
Slated for completion in fall 2016, Trump Tower Punta del
Este is under development by YY Development Group and will feature design by
Argentine architects Berardo Dujovne, Silvia Hirsch and Maria Dujovne of
acclaimed firm
Dujovne-Hirsch &
Associates
, responsible for many award-winning projects throughout South
America. The contemporary glass tower will soar over 23 stories and provide
access to premier destination highlights, including hotels, nightlife, fine
dining, beaches, golf, art galleries and cultural attractions. Located atop the
sands of Playa Brava, Trump Tower Punta del Este officially marks the Trump
brand's expansion into South America, featuring cutting-edge amenities
unprecedented in the continent.
Punta del Este, an exclusive resort community in Uruguay, is
a favorite destination of South America's elite, with many investing in second
and third homes. The region is rapidly growing in popularity with American
travelers, particularly New York and Miami residents.


Ivanka Trump added: "I am incredibly impressed by Punta del
Este's beauty. It is an amazing place with fantastic natural and cultural
offerings, and is the ideal location for this project."


The property's residential amenities will include exceptional
24-hour concierge services, a 929 m2 cascaded heated outdoor pool, two indoor
swimming pools each spanning more than 25 meters, two private cinemas, a luxury
full-service spa, poolside and gourmet dining venues, a cigar lounge, a
climate-controlled indoor tennis court, a kids club with recreation center.
Each residence — from one-bedroom units to duplex penthouse residences — will
be outfitted with fully equipped, professional grade, state-of-the-art
kitchens, automated climate control, spa-inspired bathrooms and expansive
balcony terraces overlooking the ocean. All of Trump Tower Punta del Este's 129
residences will offer spectacular views of Playa Brava — a first for any
residential project in Punta del Este. Penthouses range between 604 m2 to 799 m2,
all with full ocean views, a private swimming pool, a private spa, and a barbeque
grill.
YY Development Group recently announced the sales launch in
an official ribbon-cutting ceremony at the primary sales gallery for
Trump Tower Punta del Este
,
located on the property site in Punta del Este, Uruguay and complementing an
already established sales base in Buenos Aires, Argentina. The ceremony was
well-attended by Eric Trump and Ivanka Trump as well as several dignitaries,
most notably Uruguay Minister of Tourism, Mrs. Lilian Kechichián; General
Secretary of Maldonado Quartermaster (representing the Mayor), Mr. Gustavo
Salaberry; Uruguay National Director of Tourism, Mr. Benjamin Liberoff;
Director of Tourism for Maldonado, Uruguay, Mr. Horacio Díaz; U.S. Ambassador
in Uruguay, Mrs. Julyssa Reynoso; and the former President of Uruguay, Mr.
Jorge Batlle.
The Trump Tower Punta del Este Sales Gallery is located on
Av. Rambla Lorenzo Batlle between Av. Del Mar and Av. Roosevelt, at Parada 9 ½,
Playa Brava, Punta del Este, Uruguay. The design of the sales gallery evokes
several Trump brand hallmarks, most notably luxury, comfort and convenience.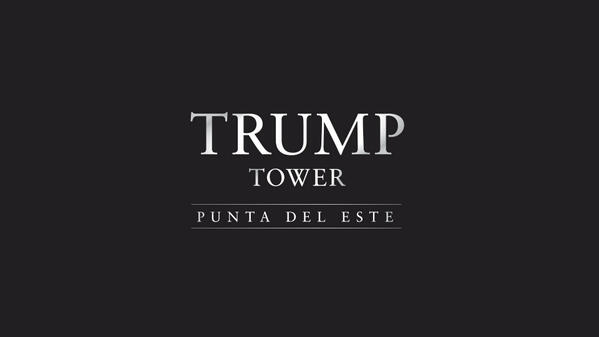 For more information, visit
www.TrumpPuntaDelEste.com
.
Press/image THE BRANDMAN AGENCY
Categoria:
#Luxo
|
Visualizações:
1288
|
|
|