#relacoespublicas #rp #rpmoda #pr #publicrelations
»
2013
»
Fevereiro
»
16
» Collezione Automobili Lamborghini Spring Summer 2013
---
14:35
Collezione Automobili Lamborghini Spring Summer 2013
The must haves The must have


The real innovation this season is the Automobili Lamborghini branded
women's and men's footwear.
When driving a Lamborghini super sports car, the journey is not just a transfer
from point A to B, but rather an experience in itself, to be savored in every
detail. Now, even the point of contact between the driver and the vehicle is
Lamborghini branded. The range of sneakers are madeof leather and fabric.
Like all Collezione Automobili Lamborghini products, this footwear is
distinguished by its clean lines, attention to detail, comfort, and the extremely
high-quality materials used.
The Collection
The range includes T-shirts, polo shirts, sweatshirts, trousers, light nylon
bomber jackets, down vest jackets and even men's shirts that can be worn by
women as tunics! Belts, ties and fingerless gloves in perforated soft Napa
leather enrich the choice of accessories.
Reinforcing the link between the Lamborghini Collection and the cars, design
elements inspired by the vehicles themselves have been incorporated, like the
hexagon or the Y-shape of the Aventador rear light clusters. One of the
Collection's leitmotifs is Italian style, expressedthis season through the use of
the Italian flag colors: the tricolor has been applied to the sleeves of the T-shirts
and sweatshirts, embroidered on the cuffs ofthe shirts and back
pockets of the trousers, and the undercollar of the"Serie Speciale Tricolore"
polo shirt is red, white and green.


The items from the Children's Collection have been completely inspired by the
lines of the women's and men's range, re-tailored to fit.
The line of rucksacks, messenger bags, tablet and smartphone cases,
manufactured entirely in Italy in collaboration with O-Range, has been
"lightened" for the warmer months in a canvas and outer/light polyurethane
inner version alongside the lined neoprene version.The laser technique
patented by O-Range for cutting and logos eliminates the need for stitching.
Concluding this season's collection are bags and accessories in carbon fiber;
multiwrap bracelets in the same leather used for Lamborghini upholstery; the
exclusive Automobili Lamborghini bracelets by Albanu; and the Automobili
Lamborghini pens by Omas.


The Spring Summer 2013 lifestyle catalogue presentsthe mood of the
collection through evocative images shot in Monte Carlo.
Collezione Automobili Lamborghini is available online at
at Lamborghini dealers, in the Sant'Agata
Bolognese store, and from brand resellers around the world.
For more information on Lamborghini's 50 th
Anniversary, visit the website:
For more information on Automobili Lamborghini, please visit: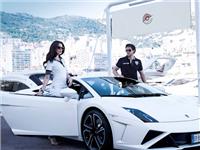 Categoria:
#Desejos
|
Visualizações:
939
|
|
|