#relacoespublicas #rp #rpmoda #pr #publicrelations
»
2013
»
Março
»
18
» ASVOFF SPECIAL ARRRGH!
---
22:14
ASVOFF SPECIAL ARRRGH!
Diane Pernet, founder of A Shaded View on Fashion Film (ASVOFF) has been given carte blanche by Vassilis Zidianakis, the curator of the "ARRRGH! Monsters in Fashion" exhibition / founder of ATOPOS CVC, to present her own perspective of the exhibition's theme through a selection of films from fashion designers whose art works are also a part of the exhibition and who marked the former editions of the festival, as well as never- seen-before artworks.
Hand-selecting twenty iconic films from the past five ASVOFF editions, Diane Pernet's retrospective screening is available to the public for one special night only March 26th, 2013 at La Gaîté Lyrique Digital Arts and Modern Music center in Paris. Following the hour long screening, museum visitors will have the chance to visit the Arrrgh! exhibition for half price.
The "ARRRGH! MONSTERS IN FASHION" exhibition, first revealed at the Benaki Museum in Athens, is presented by Greek Collective ATOPOS Contemporary Visual Culture (ATOPOS CVC). The Gaîté Lyrique in Paris has hosted this hugely successful exhibition since February 2013 continuing until April 7, 2013. The exhibition includes works from renowned fashion designers and artists, Maison Martin Margiela, Issey Miyake and Dai Fujiwara, Walter Van Beirendonck, Henrik Vibskov, Jean-Charles de Castelbajac, Piers Atikinson, Charlie Le Mindu, Bernhard Willhelm, Junya Watanabe...
A special ARRRGH! ASVOFF public screening will take place at the Gaîté Lyrique on March 26, 2013 7:30 p.m. All museum visitors will have the opportunity to visit the Arrrgh! exhibition until 9:30 p.m. (2 tickets for the price of 1).
Just prior to this special event in Paris, ASVOFF will also present two international screenings: a film installation in Munich on 21 March for Absolut Blank which is a series about the creative process where Diane Pernet will discuss 'Taking Risks' and an intimate session in Milan in conjunction with Unscent from 21-24 March at the Palazzo Morando.
For more ARRRGH! Monsters in Fashion exhibition info in English / French.
More festival information:
http://www.asvoff.com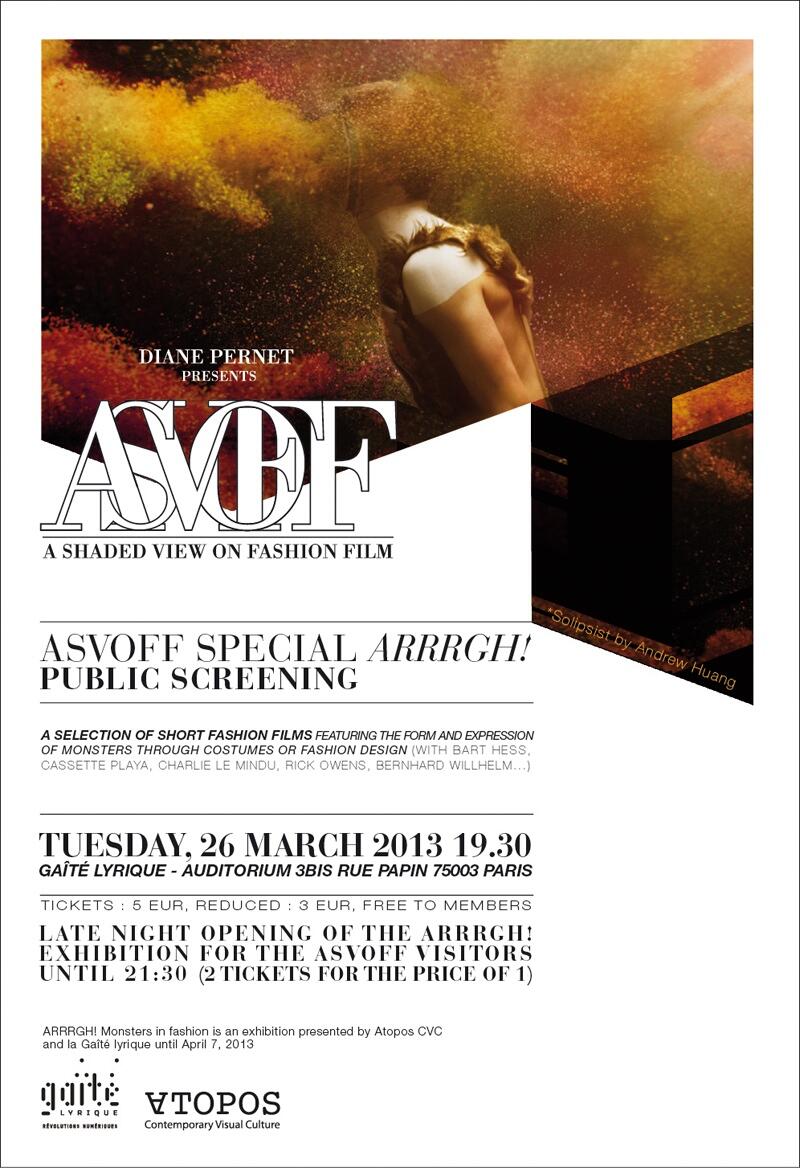 Presss/image ASVOFF
Categoria:
#Moda
|
Visualizações:
577
|
|
|